Our voyage up north was timed around a short break for the kids from swim team, and my brother Shepard's return to the mainland. We road-tripped it, splitting the drive into two days.
Any hesitations I had in buying a car with a built-in TV/DVD player and rear entertainment center completely disappeared on this trip. The kids rotted their brains watching movies and playing on the iPad for the entire 635 miles each way. They likely used up their allocated "screen time" from now til Christmas.
On the way up, we stayed overnight in Grants Pass, Oregon. We got a cheap room in a hotel with a pool. The kids thought they were staying at the Ritz.
In addition to celebrating Jack's 8th birthday and baptism, we had several mini family reunion of sorts over the course of our stay.
My brother Shepard and his wife Breanne are home from their year-long dental residency in Hawaii, and are getting ready to embark on a year-long adventure to India and Europe. We hadn't seen them in 2 years, so there were lots of hugs and catching up.
We had a great family dinner at my mom's house on Saturday night. Both my brothers were there, along with Isaac's in-laws, who were in town for the baptism. Great food, lots of laughter, and cousins playing like crazy!
We headed down to Silverton to my dad's house on Sunday afternoon. Sunday night, we went to the St. Paul Rodeo. This small town has a population of about 350. More than 10,000 people were in attendance at the rodeo Sunday night! It was crazy! The kids loved it, and it was the real deal—bucking broncos, bull-riding, and calf roping.
On Monday, the 4th of July, Ike & Lisa, Shep & Bre, Bob & Hae, and Jahmez were all over. There was lots of lounging about and enjoying the sunshine.
There was also a whole lot more great food, more laughter, and a Slip & Slide!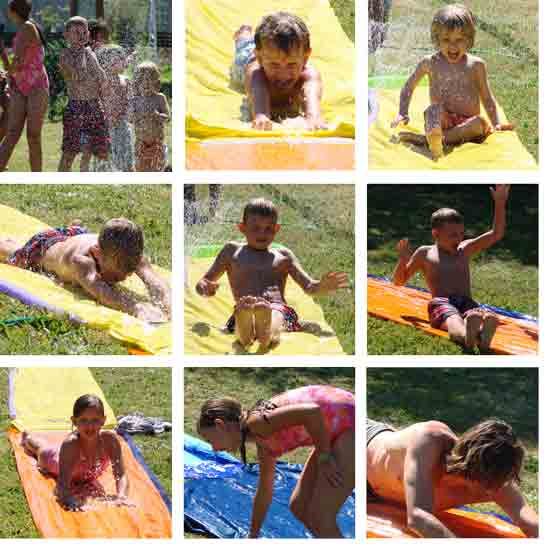 After an early dinner, the kids set out on a scavenger hunt to locate the hidden "treasure"—a big box of fireworks!

Although the sun wasn't even close to going down, at 7:00 the show began.
Then it was time for a one-man circus . . . starring Isaac.
The weather was perfect all week, and it was fantastic to spend so much time with my amazing family!